Master Plan For Again: What Does It Mean For You?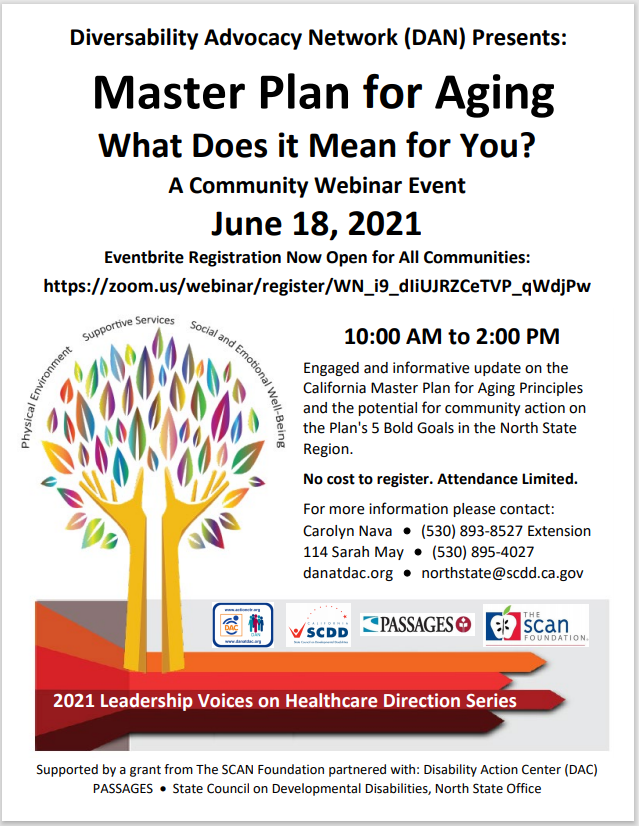 Hello Community,
Diversability Advocacy Network invites you to a Zoom webinar.
When: Jun 18, 2021 10:00 AM Pacific Time (US and Canada)
Topic: Master Plan For Aging: What Does it Mean for You?
Register in advance for this webinar:
https://zoom.us/webinar/register/WN_i9_dIiUJRZCeTVP_qWdjPw
After registering, you will receive a confirmation email containing information about joining the webinar.
WEBINAR AGENDA:
10:00-10:10 AM Welcome & Housekeeping
10:15-11:00 AM Master Plan for Aging: Key Components Update Christina Mills, ED, California Foundation for Independent Living Centers (CFILC)
11:05-11:45 AM Master Plan for Aging: Community Provider Insights - Tiffany Rowe, Program Manager, Butte County Department of Employment and Social Services (DESS); Lauren Kennedy, ED, North Valley Housing Trust (NVHT); Rosa Deming, Northern Region Supervisor, MAXIMUS-CA Health Care Options; Elaine Benwell, Elder Services, Corning Health Care District
12:00-12:20 PM Master Plan for Aging: IHSS Goals and Objectives Karen Keeslar, Director, California Association of Public Authorities for IHSS (CAPA)
12:25-12:45 PM Master Plan for Aging: Community Insights - Personal healthcare stories from our region.
1:00-1:50 PM Master Plan for Aging: Public Official Perspectives - Tami Ritter, Supervisor, Butte County District 3; Debra Lucero, Supervisor, Butte County District 2; Bruce Ross District Director, 1st Senator, Brian Dahle
1:50-2:00 PM Closing comments & Recognitions
The Master Plan for Aging's Five Bold Goals for 2030: https://mpa.aging.ca.gov/
1. Housing for All Ages and Stages.
2. Health Reimagined.
3. Inclusion and Equity, Not Isolation.
4. Caregiving That Works.
5. Affording Aging.
Register today. Webinar space is limited!
DAN Coalition Co-Chairs:
Carolyn Nava
DAC Chico | Redding
530.715.5366 ECAP Service line
530.893.8527 ext. 114 - Chico Center
530.242.8550 - Redding Center
carolyn@actionctr.org
Sarah May
Manager, North State Regional Office
State Council on Developmental Disabilities
80 Independence Circle, Suite 210
Chico, CA 95973
(530) 895-4027
sarah.may@scdd.ca.gov