Online Healthcare Workshop: Keep Your Heart Healthy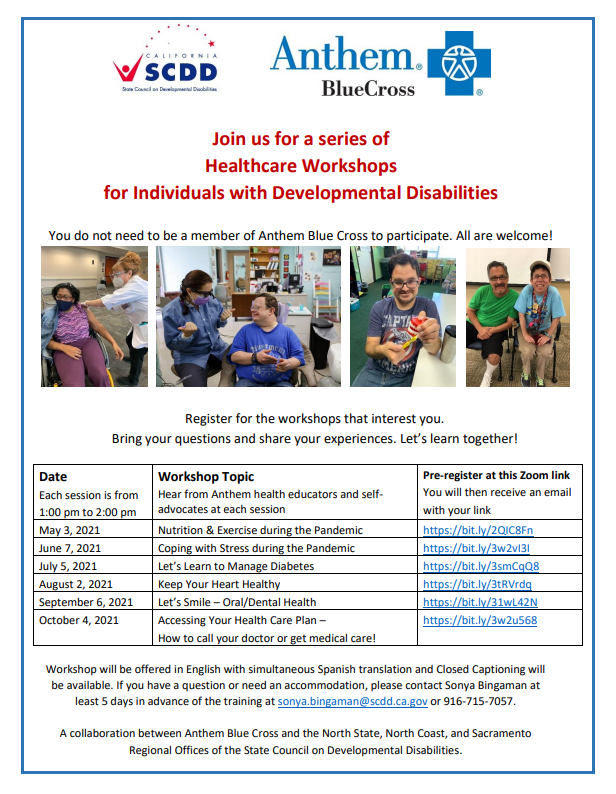 Join us for a series of Healthcare Workshops for Individuals with Intellectual and Developmental Disabilities
This session will focus on keeping our hearts healthy.
You must register for each session separately.
If you have a question or need an accommodation, please contact Sonya Bingaman at least 5 days in advance of the training at sonya.bingaman@scdd.ca.gov or 916-715-7057. Closed Captioning will be provided.
Hosted by: Anthem Blue Cross and the State Council on Developmental Disabilities - Sacramento Regional Office, North State Office, and North Coast Office.
Acompáñenos en una serie de Talleres de Salud para Personas con Discapacidad Intelectual y Desarrollo
Esta sesión se enfocará en mantener nuestros corazones sanos.
Debe registrarse para cada sesión separadamente.
Si tiene alguna pregunta o necesita una acomodación, comuníquese con Sonya Bingaman al menos 5 días antes de la capacitación en sonya.bingaman@scdd.ca.gov o 916-715-7057. Se proporcionará subtítulos.
Organizado por: Anthem Blue Cross y el Consejo Estatal de Discapacidades del Desarrollo - Oficina Regional de Sacramento, Oficina Estatal del Norte y Oficina de la Costa Norte.