Special Education Advocacy Training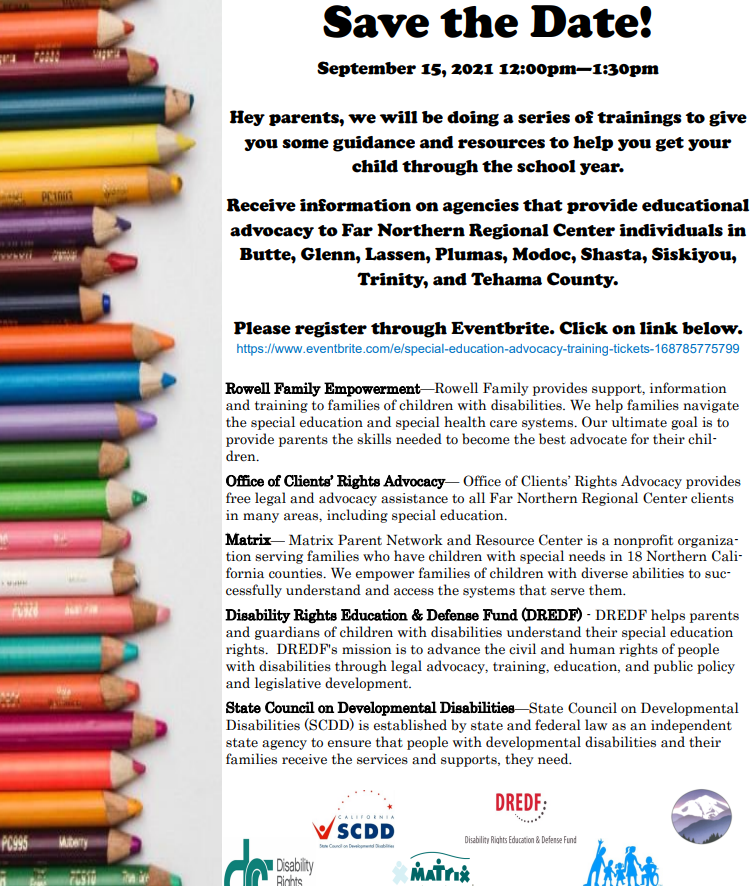 Save the Date!
September 15, 2021 12:00pm—1:30pm
Hey parents, we will be doing a series of trainings to give
you some guidance and resources to help you get your
child through the school year.
Receive information on agencies that provide educational
advocacy to Far Northern Regional Center individuals in
Butte, Glenn, Lassen, Plumas, Modoc, Shasta, Siskiyou,
Trinity, and Tehama County.
Rowell Family Empowerment—Rowell Family provides support, information
and training to families of children with disabilities. We help families navigate
the special education and special health care systems. Our ultimate goal is to
provide parents the skills needed to become the best advocate for their children.
Office of Clients' Rights Advocacy— Office of Clients' Rights Advocacy provides
free legal and advocacy assistance to all Far Northern Regional Center clients
in many areas, including special education.
Matrix— Matrix Parent Network and Resource Center is a nonprofit organization serving families who have children with special needs in 18 Northern California counties. We empower families of children with diverse abilities to successfully understand and access the systems that serve them.
Disability Rights Education & Defense Fund (DREDF) - DREDF helps parents
and guardians of children with disabilities understand their special education
rights. DREDF's mission is to advance the civil and human rights of people
with disabilities through legal advocacy, training, education, and public policy
and legislative development.
State Council on Developmental Disabilities—State Council on Developmental
Disabilities (SCDD) is established by state and federal law as an independent
state agency to ensure that people with developmental disabilities and their
families receive the services and supports, they need.